Memories of Bong Joon-Ho
From one Étoile to another
Bolero, a Global Hit
Memories of Bong Joon-Ho
Documentaire de Stéphane Bergouhnioux - 30' - Canal+ Cinema
Synopsis
Parasite de Bong Joon Ho est sans doute le film de cette année. Pour explorer ce qui a construit ce raz de marée, Memories Of Bong Joon Ho, propose le temps d'un documentaire de revenir sur le parcours et la filmographie d'un des artistes les plus intéressant du moment, un de ces cinéaste qui marquent une époque.
Le cinéaste coréen Bong Joon Ho a réussi un pari impossible, une forme de grand chelem. Parasite, son dernier film a réunit l'unanimité du jury de Cannes présidé par le Mexicain Alejandro Gonzalez Iñárritu.
Sur sa lancée, il a récolté tous les prix, César, Bafta, Golden Globes, jusqu'à la consécration finale et exceptionnelle : les Oscars : meilleur film, réalisateur, scénariste, film étranger.
Dans le même temps, il a rassemblé devant un même écran les spectateurs du monde entier. En Corée tout d'abord, avec plus de 10 millions de spectateurs ; et presque 2 millions en France. Parasite est vendu dans 200 pays, il rapporte 50 millions de dollars aux Etats-Unis, 250 dans le monde ; il n'en aura couté que 12. Enfin, troisième levée du grand chelem, la critique est enthousiaste.
Nous proposons de revenir, le temps d'un portrait documentaire, sur le parcours et la filmographie d'un des artistes les plus intéressant du moment, un de ces cinéaste qui marquent une époque.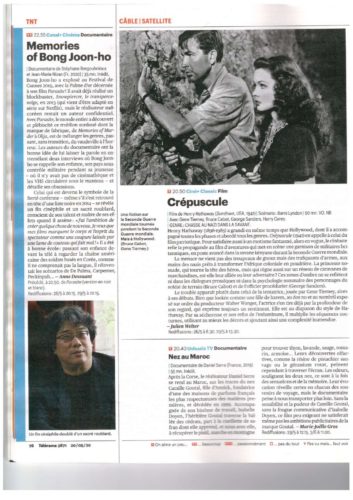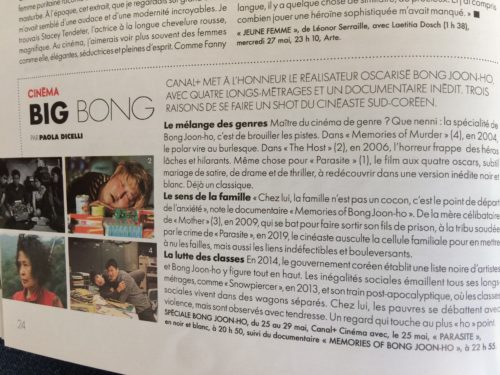 ÉQUIPE
Réalisation

Stéphane Bergouhnioux

Auteurs

Stéphane Bergouhnioux & Jean-Marie Nizan

Production

Jean-Marie Nizan

Direction de Production

Marie de Labarre

Montage

Catherine Jezequel

Dcumentaliste

Christine Hamon

Graphisme

Alexis Jaulmes

Calligraphie

Young Suk Kum Frondo

Musique

Jean-Baptiste Thoret

Mixage

Philippe Charriot

Etalonnage

Guillermo Fernandez

Traduction

Yejin Kim

Assistante

Eloise Audoin
From one Étoile to another
Web content for Octave Magazine
5 min - Opéra de Paris - 2020
Synopsis
A ballet transmited, adapted, interpreted many times, Giselle is once again being played on the stage of the Palais Garnier. In the studio, the Étoile Léonore Baulac is discovering this mythical role she always dreamed of. Under the bright tutelage and the sage advice of another Étoile, Elisabeth Maurin, she deconstructs every step to better make hers the character. And from this precious oral transmission is born a new interpretation : even though the steps are still the same, each dancer is one singular and unique Giselle.
ÉQUIPE
Direction

Anne-Solen Douguet

Editing

Laodice Kolk

Technical ressources

Beall Productions
Bolero, A Global Hit
Documentary by Anne-Solen Douguet & Damien Cabrespines
52 min - Arte - 2019
Synopsis
A performance of Bolero is begun every 15 minutes. Ninety years after its creation, this documentary explores Ravel's masterpiece through the artists from all sorts of disciplines who have taken it on. With them we want to reveal the richness and ambiguity of this seemingly simple work, which has become a major influence on modern music and "pop culture", and to understand the driving forces behind its extraordinary story.
ÉQUIPE
Direction and writing

Anne-Solen Douguet et Damien Cabrespines

Production

Jean-Marie Nizan

Production director

Marie de Labarre

Photography

Anne-Solen Douguet, Alexandre Hardouin, Youcef Khemane, Jean-Marie Nizan, Stéphane Bergouhnioux, Thierry Vivier, German de Santiago Puy

Editing

Catherine Jezequel

Music

Sebastien Delage

Sound

Jean-Nicolas Buonavista

Researcher

Barbara Schölnberger

Production assistant

Eloïse Brannens

Musical advisor

David Sanson

Graphic Design

Thomas Bordier

Voice over

Pierre Tissot

Mixing

Benoit Hery

Grading

Olivier Cohen